Nos complace anunciar el acuerdo al que se ha llegado con nuestro mas nuevo patrocinante,
MAD ABOUT SOCCER, quienes han estado en el mercado desde 2001 trayendo como ellos mismo lo dicen, su pasión por el futbol a todos los jugadores de Miami y sus alrededores con 4 tiendas en el sur de Florida, ahora ofrecen en exclusiva a los socios oficiales de nuestra peña un 10% de descuento presentando tu carnet oficial y vigente. No pierdas esta fantástica oportunidad de disfrutar de los mejores productos originales con un fabuloso descuento para que sigas demostrando tu pasión en la cancha o fuera de ella.
1360 NW 88th AVE, DORAL FLORIDA 33172
Descuentos en Adidas del (30%)
Descuentos en todo, accesorios, desbloqueo de teléfonos, activaciones. (10%)
About Us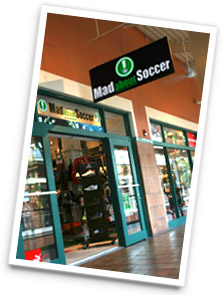 Mad About Soccer is every soccer fan's dream come true. In business since 2001, it is packed with hard to find items and is Miami's unique soccer specialty store. "We wanted to bring our passion for soccer to the U.S.," said co-owner Diego Wainer, "We want people to go crazy for soccer just like my partner and me."
Co-owned by Wainer and Sebastian Covos, both from Argentina where soccer is national past time, Mad About Soccer, carries just about anything related to the sport, including official replicas of the best soccer teams in the world.
The fan corner has such items such as team hats, banners, flags, key chains, stickers and souvenirs. Hard-to-find team novelty items are available as well.
The store also sells uniforms for local children and adult soccer teams. Of course, it would not be a soccer store without soccer balls, soccer shoes, socks, shirts, shorts and other accessories.
"We want soccer players to know that at Mad About Soccer they can find anything they need," said Wainer.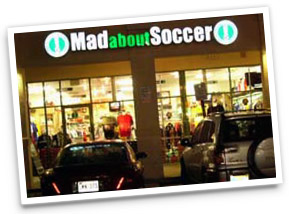 Covos and Wainer are childhood friends and lifetime soccer fanatics. Their passion for soccer is evident in their store and everything they do. If you have any questions about the soccer, they are definitely the ones to ask. "We are soccer connoisseurs, truly," said Wainer.
Now with four stores in Doral, Bayside, Wellington and Dolphin Mall, Mad About Soccer counts with the most complete inventory specially picked for soccer players, and followers.

STORE LOCATIONS
DORAL
7930 NW 36 St., Suite 26,
Miami, FL 33166
Ph: (305) 477-0414
[ view map ]
BAYSIDE MARKETPLACE
401 Biscayne Blvd. #N238,
Miami, FL 33132
Ph:(305) 371-2111
[ view map ]
DOLPHIN MALL
11401 NW 12 St., #462,
Miami, FL 33172
Ph:(305) 640-3036
[ view map ]
THE MALL AT WELLINGTON GREEN
10300 Forest Hills Blvd., #193
Wellington, Fl 33414
Ph: (561) 795-6933
OUR GOAL.
Cano Health establishes and operates "Primary Care Plus" healthcare centers to improve the lives of individual, families, and communities in order to fundamentally save America's ailing healthcare system. We do so by developing and implementing protocols which allow for the provision of specialty medical services within the primary care setting. We have effectively created the "Primary Care Plus" model meets our revenue needs while decreasing waste. Cano Health will continue to grow beyond South Florida establishing itself as the "go-to" center for health news and information. Cano Health's founding partner, Rick Sanchez who is considered a South Florida icon, spearheads Cano's community outreach and marketing efforts.